Administrator
Staff member
Joined

Jul 10, 2022
Messages

35
Reaction score

4
Points

8
What is Victor Espinoza's Net Worth and Salary?​
Victor Espinoza is a Mexican American horse racing jockey who has a net worth of $8 million. Victor Espinoza competes in American Thoroughbred horse racing. In 2015, he won the Triple Crown riding American Pharoah, and before that won both the Kentucky Derby and Preakness Stakes in 2002 and 2014. Notably, Espinoza became the oldest jockey and the first Hispanic to win the Triple Crown.
His first break came in 2000 when he won the Breeders' Cup Distaff riding Spain. In 2013 he celebrated his 3,000th career win at Belfair Hollywood Park. In 2014 Espinoza finished 8th on the National Earnings List for Jockeys. He donates 10% of his winnings to the City of Hope for pediatric cancer research. After winning the Triple Crown, he donated 100% of his earnings to the City of Hope. Espinoza won the ESPY Award for Best Jockey in 2002 and 2014. In July 2018, Victor was injured while riding a horse named Bobby Abu Dhabi in Del Mar, California. He suffered a fractured vertebra which left him struggling to walk, shave or even get out of bed.
Early Life​
Victor Espinoza was born on May 23, 1972 on a dairy farm in Tulancingo, Hidalgo, Mexico. He is the 11th of 12 children. With his brother José, he rode horses on the family farm. At the age of 15, Espinoza left home and relocated to Cancún, where he assisted his brother as a trainer of Quarter Horses. Following that, he went to jockey school, and drove a bus in Mexico City to pay for his tuition.
Career Beginnings​
After jockey school, Espinoza began racing Thoroughbreds at the Hipódromo de las Américas in Mexico City. In 1990, he immigrated to the United States without knowing English. Espinoza eventually settled in Northern California, where he became the leading apprentice rider at the Golden Gate Fields and Bay Meadows racetracks. In the beginning, he was quite poor, and lived in a tack room at the stables. Soon enough, however, he began being noticed. Moving to Los Angeles, Espinoza had his big break when he won the Breeders' Cup Distaff in 2000. The year after that, he competed in his first Kentucky Derby, coming in third place riding Congaree.
Major Wins, 2002-2014​
In 2002, Espinoza won both the Kentucky Derby and the Preakness Stakes riding War Emblem. He was on a roll, averaging 193 wins a year between 2000 and 2006. However, he soon began experiencing a career slump. In early 2013, Espinoza hired a new agent, Brian Beach; subsequently, he claimed his 3,000th career win riding Flashy Delight at Betfair Hollywood Park in Inglewood, California.
In late 2013, Espinoza was selected by veteran horse trainer Art Sherman as the jockey for California Chrome. This turned out to be an incredibly felicitous pairing, as Espinoza went on to ride California Chrome to consecutive wins in the King Glorious Stakes, California Cup Derby, San Felipe Stakes, and Santa Anita Derby. Extending this streak, he then rode California Chrome to victories in both the Kentucky Derby and the Preakness Stakes, his second time achieving that double. Shortly after that, Espinoza won the Windsor Castle Stakes at the Royal Ascot meeting in England atop Hootenanny.
Triple Crown​
After coming up just short of the Triple Crown in both 2002 and 2014, Espinoza became the first jockey ever to get his third opportunity to win the title in 2015. He ultimately accomplished the feat, winning the Triple Crown atop American Pharoah. In the process, Espinoza became both the oldest jockey to ever win that title, at age 43, and the first Hispanic person to do so. Moreover, his Triple Crown victory was the first since 1978, when Steve Cauthen claimed the title riding Affirmed. Espinoza went on to achieve another incredible feat toward the end of 2015 when he rode American Pharoah to victory in the Breeder's Cup Classic, giving him the horse racing Grand Slam.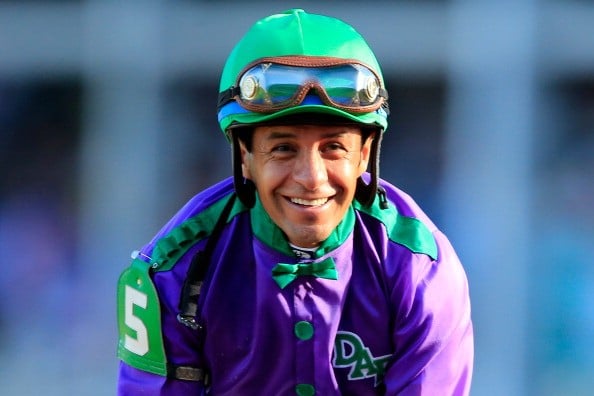 Rob Carr/Getty Images
Dancing with the Stars​
Due to his historic Triple Crown win, Espinoza found himself in demand in the media. As a result, he competed in the 21st season of the reality television dance competition series "Dancing with the Stars" in 2015. Paired with dancer Karina Smirnoff, he was ultimately eliminated in the second week of competition.
2018 Accident​
In July of 2018, Espinoza suffered a fractured vertebra at the Del Mar racetrack while riding Bobby Abu Dhabi. The injury made it difficult for him to stand up, walk, and use his left arm. After months of recovery, Espinoza was able to ride again in early 2019.
Personal Life and Charity​
Espinoza is unmarried with no children. However, his nephew Assael has chosen to follow in his footsteps by becoming an apprentice jockey at Santa Anita Park in Arcadia, California.
Espinoza has made it a point to contribute some of his race winnings to charity. Specifically, he donates 10% of his winnings to the not-for-profit clinical research center, hospital, and graduate school City of Hope. Espinoza also donated 100% of his 2015 Belmont Stakes earnings to the organization.
Read more:
Victor Espinoza Net Worth
Continue reading...