Administrator
Staff member
Joined

Jul 10, 2022
Messages

35
Reaction score

4
Points

8
What is Jan Ullrich's Net Worth?​
Jan Ullrich is a former professional road bicycle racer from Germany who has a net worth of $20 million. After his decisive victory in the 1997 Tour de France, he went on to win such major races as the Hamburg Cyclassics and the Vuelta a España, as well as two races at the Summer Olympics in Sydney. Later, Ullrich was found guilty of doping, resulting in his ban from the Tour de France.
Early Life​
Jan Ullrich was born on December 2, 1973 in Rostock in what was then East Germany. He began cycling early on in life, joining the team SG Dynamo Rostock as a child. When he was nine, Ullrich won his first race. For his education, he went to the KJS sports school in Berlin. While a student there, Ullrich was named champion of East Germany. He went on to join an amateur club in Hamburg with his teammates and his trainer Peter Sager.
Career Beginnings​
In 1993, Ullrich won the amateur road title at the UCI Road World Championships in Oslo, Norway. The year after that, he came in third place at the world time trial championship in Sicily, Italy. Finally, in 1995, Ullrich turned professional and joined Walter Godefroot's Telekom team. That year, he became the national time trial champion; he also finished third in the Hofbräu Cup.
Ullrich rode in his first Tour de France in 1996. Although he found himself chasing teammate Bjarne Riis for most of the race, he won the final individual time trial and notched his first Tour stage win. Ullrich ultimately finished the Tour in second place 1 minute and 41 seconds behind Riis.
1997 Tour de France​
Having just won the national Road Race championship as well as a stage in the Tour de Suisse, Ullrich was considered a favorite going into the 1997 Tour de France. He began the race promisingly, coming in second in the prologue behind Chris Boardman. On stage 10, he made a charge up to the lead group and finished a minute ahead, earning his first yellow jersey as leader of the general classification. Ullrich proceeded to win the stage 12 time trial three minutes ahead of second-place rider Richard Virenque. In the final time trial, which Abraham Olano won, Ullrich extended his lead over Virenque. He went on to win the Tour de France the next day, becoming the first German ever to do so.
Further Races, 1997-1999​
Just two weeks after his huge Tour de France victory, Ullrich won the Hamburg Cyclassics in front of his home crowd. These two major wins led to a bicycle boom in Germany, with Ullrich being named the nation's "sports person of the year" for 1997. The following year, Ullrich returned to the Tour de France as the defending champion. Although he claimed the lead in the general classification on stage 7, he was eventually trounced in a charge by Marco Pantani on stage 15. Ullrich made a powerful comeback on the next stage, and he began working with Pantani over the final stretch. Ultimately, after winning the final stage, Ullrich finished in second place. He was unable to return to the Tour de France in 1999 due to a knee injury.
With no Tour de France appearance in 1999, Ullrich rode in that year's Vuelta a España. Throughout much of the race, he alternated with Abraham Olano for the lead position. However, Olano ended up leaving the race due to a broken rib, leaving Ullrich to jockey with Igor González de Galdeano. In the final time trial, Ullrich won by nearly three minutes, and in the process increased his overall lead on González de Galdeano by four minutes. He ultimately won the race, giving him his second major Tour title. Some months later, Ullrich became the world time trial champion.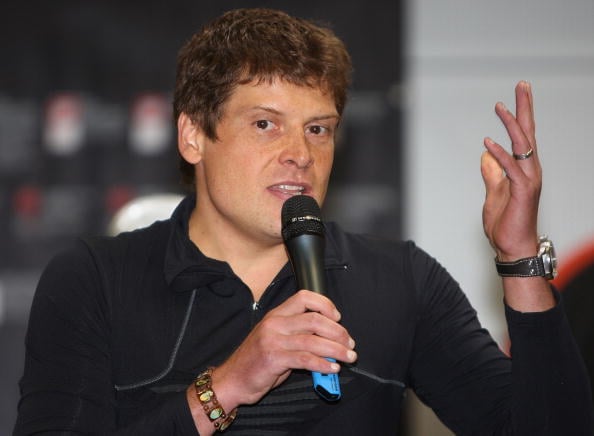 Thomas Niedermueller/Getty Images
Races in the 2000s​
Ullrich made his return to the Tour de France in 2000, where he faced off against
Lance Armstrong
for the first time. Armstrong ended up winning both that year and again the following year. Ullrich had better success at the 2000 Summer Olympics in Sydney, winning the gold medal in the men's road race and the silver in the men's time trial. Things took a turn for the worse in 2002 when Ullrich had his driver's license suspended for driving while intoxicated. He subsequently tested positive for amphetamine, resulting in a six-month ban and the termination of his Team Telekom contract. Upon his return to racing, Ullrich joined Team Coast; after that team folded a few months later, he joined Team Bianchi. In the 2003 Tour de France, he once again lost out to Armstrong.
In 2004, Ullrich returned to Team Telekom, which was renamed T-Mobile. He went on to win the Tour de Suisse and finish fourth in the Tour de France. In 2005, Ullrich finished third in the Tour de Suisse, and again placed behind Armstrong in the Tour de France. The following year, he claimed his second Tour de Suisse title.
Doping Scandal​
Ullrich was named in a major sports doping scandal in 2006. Although he denied his involvement, he was ultimately suspended from the Tour de France along with other accused riders. In July, Ullrich was fired from the T-Mobile team; by early 2007, he retired from racing, despite still claiming he never cheated. Later, in 2012, the Court of Arbitration for Sport found Ullrich guilty of doping, and retroactively banned him beginning in August of 2011. Ullrich finally admitted his guilt in 2013.
Personal Life​
From 1994 to 2002, Ullrich lived with his girlfriend Gaby Weiss, with whom he had a daughter named Sarah Maria. The two separated in 2005. Subsequently, in 2006, Ullrich married Sara Steinhauser, the sister of his former teammate Tobias Steinhauser. The couple had three children named Max, Benno, and Toni. Ullrich and Steinhauser eventually separated in 2017 on account of the former's alcohol and drug problems, which led to a serious drunk-driving incident in Switzerland. Ullrich was later admitted to a psychiatric hospital after attacking both his neighbor and a hotel escort.
Read more:
Jan Ullrich Net Worth
Continue reading...