Joined

Jul 12, 2022
Messages

31
Reaction score

0
Points

1
What was Dick Gregory's Net Worth?​
Dick Gregory was a stand-up comic, civil rights leader, activist, and author who had a net worth of $8 million at the time of his death. Dick Gregory died on August 19, 2017 at the age of 84. Dick Gregory rose to fame in the 60s with his comedy routines mocking racism and bigotry. He took these views into his prolific political activism throughout the 60s and 70s, during which time he went on a number of hunger strikes. Following his death, he was the subject of the documentary film "The One and Only Dick Gregory."
Early Life​
Dick Gregory was born on October 12, 1932 in St. Louis, Missouri to Presley and Lucille. As a teen, he went to Sumner High School, where he ran track and won the state cross country championship. Gregory went on to attend Southern Illinois University on a track scholarship. His college career was interrupted for two years after he was drafted into the US Army in 1954. During his service, he was encouraged by his commanding officer to take up comedy. Gregory subsequently entered and won a number of talent shows. After being discharged from the Army, he briefly returned to SIU before dropping out.
Comedy Career​
With the aim of becoming a professional stand-up comic, Gregory moved to Chicago after leaving SIU. There, he became part of a burgeoning generation of black comedians who commented critically on racism and bigotry in America. In 1958, Gregory opened a nightclub called the Apex Club, which struggled financially. He continued to perform as a comedian at other nightclubs while working for the US Postal Service during the day. Gregory finally got his big break in 1961 when he was spotted by Playboy magazine publisher
Hugh Hefner
at the Roberts Show Bar in Chicago. Following his performance there, Gregory was hired by Hefner to work at the Playboy Club. Also in 1961, he made his New York City debut at the Blue Angel nightclub.
Gregory released several comedy albums over the course of his life. His titles in the 60s included "East & West," "The Two Sides of Dick Gregory," "My Brother's Keeper," and "The Light Side: The Dark Side." In the 70s, Gregory released the albums "Dick Gregory's Frankenstein," "At Kent State," and "Caught in the Act." His final comedy album, "You Don't Know Dick," came out in 2016.
Political Campaigns​
In 1967, Gregory entered the political arena when he unsuccessfully ran against Richard J. Daley for mayor of Chicago. The following year, he ran for US president as a write-in candidate of the Freedom and Peace Party, and claimed 47,097 votes.
Political Activism​
Throughout the 60s and 70s, Gregory was heavily involved in political activism. He was especially active in the civil rights movement, and was a noted protestor of the Vietnam War. Following the assassination of
Martin Luther King Jr
., Gregory and Mark Lane conducted landmark research that led to federal investigations of both King's and
John F. Kennedy's
murders. Gregory was also outspoken in his stance against drugs.
Among his other areas of activism, Gregory was a noted feminist, having joined many prominent suffragists to lead the National ERA March for Ratification and Extension in 1978. Additionally, Gregory helped advocate for Native American rights. He also went on several hunger strikes over the years, including in Tehran during the US Embassy hostage crisis in 1980. Another passion of Gregory's was vegetarianism and veganism. On the topic, he penned the book "Dick Gregory's Natural Diet For Folks Who Eat: Cookin' With Mother Nature." Gregory considered animal rights and civil rights to be closely related, as they both have to do with the health and wellbeing of living things.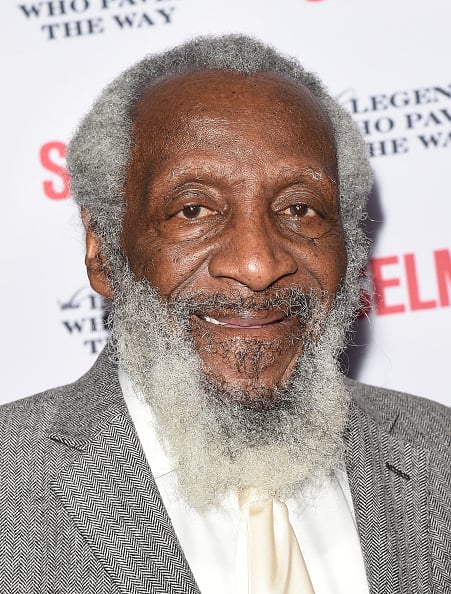 Getty
Entrepreneurship​
In 1984, Gregory founded the company Health Enterprises, a distributor of weight-loss products. His intention with the company was to improve the health of African-Americans by combating the prevalence of substance abuse and poor nutrition in black communities. Moreover, Gregory developed a diet drink called Bahamian Diet Nutritional Drink as well as a powdered diet mix called the Slim-Safe Bahamian Diet. To bring the diet to retail, he received a multimillion-dollar distribution contract.
Author​
As an author, Gregory achieved major success with his first book, the 1964 autobiography "nigger." He went on to write many more books over the next six decades, including "What's Happening?," "Dick Gregory's Bible Tales," "No More Lies," and "Dick Gregory's Political Primer."
Film and Television​
Gregory occasionally acted in film and on television. His first credit as an actor was the 1967 film "Sweet Love, Bitter." Later on, he appeared in such films as "The Glass Shield," "Panther," "The Hot Chick," "Steppin: The Movie," and "The Leisure Seeker." In 2021, he was the subject of the documentary film "The One and Only Dick Gregory," directed by Andre Gaines.
Personal Life and Death​
In 1959, Gregory married his wife Lillian. Together, they had 11 children: Michele, Lynne, Paula, Pamela, Xenobia, Christian, Gregory, Ayanna, Miss, Yohance, and Richard Jr., who passed away two months after his birth.
Gregory was diagnosed with lymphoma in 1999; it eventually went into remission. Later, in 2017, he was hospitalized for a bacterial infection. Gregory passed away a week later from heart failure at the age of 84.
Read more:
Dick Gregory Net Worth
Continue reading...